Special Education solutions for smaller schools
"Yucca School
has been extremely pleased with the services and the personal attention given by Beth Ferry to our Special Education needs." read more kudos
HERE
.

Canyon State Educational Solutions is an independent agency that specializes in providing Special Education Services to public education and state government agencies.
Headed by highly-qualified education specialist Beth Ferry, Canyon State Educational Solutions (CSES) addresses the crucial Special Education requirements of small schools that do not need or cannot afford a full-time Special Education Director. Read the Scope of Services below to see how CSES can benefit your organization.
Solutions for schools
All districts, regardless of size, require the expertise of a Special Education Director. However, many small districts without the funding to support a full-time Director have chosen to have teachers fulfill this responsibility. This arrangement creates difficulties, as the teachers simply do not have the expertise or time to complete many of the tasks. In addition, and most importantly, it takes the teacher away from the students.
Canyon State Educational Solutions is able to provide these services based on the actual needs of the district. For those very small districts, the responsibilities can be fulfilled within just one to two days per month.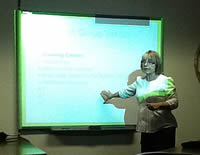 Scope of services
Compliance assurance:
Audit all files, ensure appropriate completion of MET, IEP and Progress Reports for all students.
Work with general education teachers to ensure accommodations and modifications are taking place within the general education curriculum.
Assist Grant Manager with development and completion reports for the following grants:
IDEA Basic
Title I and II
IEP Facilitator:
As a trained IEP Facilitator, Beth is able to work with both the school district personnel and parents to enhance better communication when conflict arises.
Instructional coaching for staff:
Sharing of strategies and techniques to assist in increased student achievement.
Staff trainings to include:
Getting Off to a Good Start: Effective Classroom Management
Ruby Payne: Helping the Under-Resourced Learner
Working with Special Needs Students within the Inclusive Classroom
Small Group Instruction: Insuring the Needs of All Students are Met


Beth Ferry is an Education Specialist providing qualified and experienced Special Education services in rural Arizona.
Deb Vandevier has extensive training and experience in IEP development and implementation, curriculum design and development, classroom management, differentiated instruction, accommodation development and implementation, and transition to post-secondary.


Jeff Morton has over 14 years of successful teaching and administrative experience in California, Colorado and Arizona, and brings a wide range of skills and expertise to CSES.
Patti Cummins brings 30 years of regular and special education teaching experience to CSES.
Cindy Voigt is a graduate of Northern Arizona University with 32 years of teaching assignments all in the great state of Arizona. She has been influential in her career and has earned sincere respect as a behind-the-scenes facilitator and an advocate for students.